$8,580 from 84 donors
$10,000 goal
Boeing Classic FORE BRI: Join us from July 1-July 31 and together we will change lives!
The Boeing Classic is constantly striving to develop new opportunities to raise awareness of our tournament beneficiary, Benaroya Research Institute at Virginia Mason (BRI). BRI is doing lifesaving work in the fight against autoimmune diseases, such as type 1 diabetes, multiple sclerosis, rheumatoid arthritis, among others. We are proud to support their efforts helping the 1 in 20 Americans who suffer from these diseases in our community.
This year we invite you to take part in a new campaign that gives you the chance to help BRI change lives plus feel great about supporting your community and win awesome prizes!
Here are the details:
WHEN: The month of July, just as we're gearing up for the return of the Boeing Classic.
WHAT: A fundraising campaign that takes you on a virtual trip around the golf course with opportunities to win amazing prizes.
HOW: Set up a CHAMPION page, send an email to friends and family and share on Facebook.
WHY: Because BRI is what brings us together… and together we can each do our small part to make a big difference to support lifesaving research.
All you need to do to take part in this community effort is click on "Join the Team!" It takes about 60 seconds to set up your profile. Invite your friends to join you through email, Facebook and word of mouth. The more donors you recruit, the more fun you get to have.
We are excited to introduce this new effort to support BRI and showcase for our community just how dedicated and loyal the Boeing Classic volunteer base is to our cause. It's a great day to be a CHAMPION!
Support our volunteers or join the campaign!
About the Boeing Classic and BRI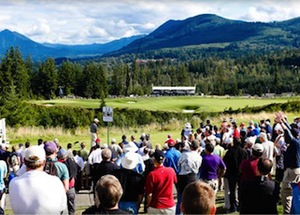 The Boeing Classic is an Official Event on the PGA TOUR Champions Tour, which features the legends of golf 50 years of age or older. Jay Don Blake is the tournament's defending Champion after a playoff victory at the 2012 Boeing Classic, which also featured record numbers of volunteers (1,035) and spectators (81,000) during Tournament Week. The winner of the Champions Tour's 2012 Tournament Business Affairs Award, 2011 Players Award and 2010 Presidents Award, in the tournament's eight-year history more than $4 million has been raised for the Heart Institute at Virginia Mason Medical Center, the Benaroya Research Institute at Virginia Mason and additional Greater Seattle Charities.
The 2013 event will be played August 19-25 at TPC Snoqualmie Ridge. For additional information, please visit www.BoeingClassic.com.
Medical research conducted at the world-renowned Benaroya Research Institute at Virginia Mason (BRI) has resulted in major advances against 80+ autoimmune diseases, such as type 1 diabetes, multiple sclerosis, rheumatoid arthritis, Crohn's disease and others. BRI's collaborative approach accelerates discovery and translates laboratory breakthroughs to the prevention, treatment and ultimately, elimination of these diseases. Progress against one autoimmune disease is progress against them all.